What is this blog hop all about, you ask? Cinthya, Loren and a Guest Host (THIS WEEK it's ME...can you say YAYAYAY!!!???!!!) will be hosting this blog hop every Friday for the duration of three days.
The Guest Host will be a featured blogger picked randomly every week (and can only be featured once every month) from the list of everyone who link up. They will have the benefit of joining Loren and Cinthya in hosting the Friday Shout-Out blog hop along with getting some free promotional space on thier blogs
(hence the Shout-Out)
. They will post the guest hosts button on their page for a week for free. Who doesn't love free advertisement?!
Hi everyone! I am SO excited to be a guest host this week for the Friday Shout out!! I hope EVERYONE has had a FANTASTIC week!!!
Are you all excited for Easter this weekend?
I know we are excited to spend it with family and friends going to an Easter egg hunt, attending church services and eating some yummy food
in celebration
for what our
SAVIOR
did for us on cavalry!
What are your plans??
I'd
LOVE
to hear how YOU are spending this
ALL IMPORTANT
holiday!!!
Please
feel free to comment about your weekend or send me an email!
I ALWAYS LOVE meeting new people!!!!!!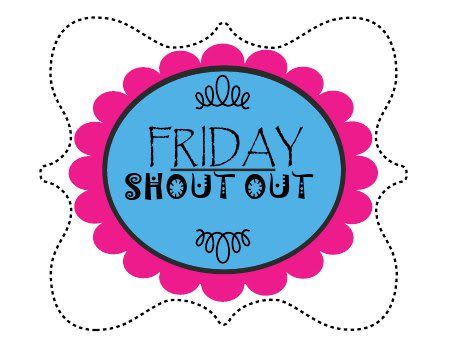 2. Be sure to link up the HOME page of your blog as this is a Social Blog Hop.
3. Be social and visit some of your fellow bloggers who linked ahead of you.
4. Post the "Friday Shout-Out" Button on your blog to show your support and spread the love. Help us make this blog hop grow.