My name is Brooke, and I blog over at
Covered in Grace
. There, I write about life as a mother, student, military wife, photog wannabe, writer and Jesus lover. My blog centers around my faith and all the things that I love. Every Monday I feature a new blogger via guest post in a link up called Monday Meet Ups. Most recently, I launched a web of
Prayer Warriors
that call out for prayer requests all around blogland. I'm really excited to see where that will go.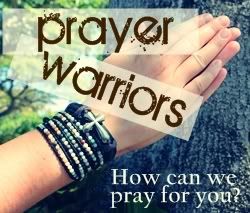 Something else that I'm really excited about lately is the
A Look Back Linkup
. It's the brainchild of Megan @ Shaping Up to be a Mom and I have the pleasure of co-hosting with her...as well as our lady, Kelly! Each month we "look back" at a year from the past and feature photos, memories, special events, favorites and nostalgic awesomeness with each other. It's always so much fun digging out old photos and dusting off old memories. You should definitely join us for the next round!!
Recently, I participated in a project called Acts of Kindness. It's another link up that I've fallen in love with. It prompts bloggers to reach out to others in a way that they may not have before. The aim is to spread love and grace through out your community with joyful and generous hearts.
Click here
to read what I was up to.
And finally... I wanted to share one of my favorite link ups with you all!
My original Linky Party, known as The Monday Meet Up, is a great blogger meet and greet where I feature one guest every Monday. It's sort of a linkup free for all for my readers. You can link up anything that you've posted...ever! For more information, just click the image below!
Well, I could seriously go on and on about all the wonderful things that are going on around blogland lately. There is such an amazing community of people out there that I have been so thrilled to meet. I hope you'll stop by my neck of the woods from time to time. I love write about my faith, my family and the things I love. There is a whole lot of dorkiness there, a whole lot of introspection, a lot of community with heavy doses of faith and grace. If nothing else, it's always fun. Until then...it's been great hanging with you!
You can find me here: