This week I've been especially blessed by a few posts last week and I want to share them with you to encourage you to go and read them if you haven't!
Gertrude @ A Chosen Remnant with her post "Champions Cheer Us On". Her encouragement here to run the race set before us touched my heart so and spurred me on to keep starting over with Jesus each day.
Sarah @ The Fontenot Four hit me upside the head with her post "It's Not About You".
She is an AMAZING encourager with her words: "
When we don't take the time to consider the impact of our actions on others, we do them a disservice. On the other hand, when we adopt a humble attitude, one of putting others needs ahead of our own, we become more Christ like
".
Katie @ A Heart Consumed told me straight from God I'm convinced of it, to watch my words ESPECIALLY with my kids, in her post "Let My Words Be Few".
PS: Don't forget to enter the current GIVEAWAY here.
What have you been learning in the Bible? Please join myself and these fantastic ladies for this encouraging linkup!
Sarah at Fontenot Four
Falen at Upward Not Inward
Kelly at Exceptionalistic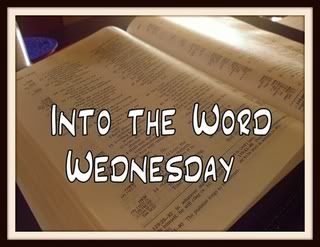 Into the Word Wednesday Blog Hop Rules:
1. Write a post about what God is teaching you this week.
2. Follow the host and hostess.
3. Grab a button to put on your blog - the more the merrier!
4. Check out (and comment) other people's blogs and be blessed by all the sisters and brothers around the world!