I've made quite a few recipes from this cookbook and haven't been disappointed yet! Each recipe is chock full of healthy TASTY goodness you CAN'T go wrong!
I recently tried something that might sound a little foreign to some of you but hear me out. It is FANTASTIC AND HEALTHY! It's called yogurt cheese.
I used it in place our sour cream in a 7 layer dip served at my son's 3
rd
birthday party.
Guess what?
I got a zillion complements on the dip!!!
The ONLY component to yogurt cheese?
Strain green yogurt in a cheesecloth (or i just poured mine into an old CLEAN dish towel) over a colander overnight or for at least 2 hours.
Then use it as you would sour cream.
Why use yogurt cheese instead of sour cream? It is SO much better for you! Greek yogurt is low in suger, high in calcium & high in protein. It's a perfect addition to a healthy diet!
Little tweaks like this can make a world of difference when used in conjunction with a healthy diet!
It's easy and yummy! Why not?
And now a word about this FANTASTIC Linky from Kristina!!!
--
Welcome the Simple Steps to Healthy Living linky party! I'm so excited you're here and I cannot wait to see what you have to share with us.
If you're a regular on my blog, you know that I'm passionate about making things easy, especially if I'm really committed to it. I rarely follow a recipe if it has more than 5-6 steps and I'll rarely make something a habit if it seems to hard or overwhelming!
One of my goals when I first started blogging was to show that it's possible to overhaul your lifestyle, one step at a time so that it doesn't seem too overwhelming. I hope that I accomplish this when I do my
simple steps to healthy living!
I'm so excited to share this journey with you! And have you share what you've learned as well! And I'm thrilled to have some wonderful ladies with me today co-hosting!
But First....I'd love for you to check out these lovely links from the last party!
Congrats ladies!
Feel free to grab the button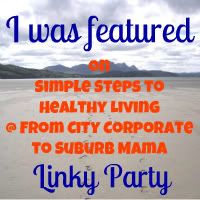 And now, for the rules...I'll try to keep them simple :)
1. Follow me and all my co-hostesses
2. You can post about anything you want, as long as it's a simple step towards a healthier lifestyle including tips for "green" living. I will ask that you avoid the following:
no artificial ingredients
3. Share the love. Check out at least 3-4 other posts and introduce yourselves. The thing I love most about linky parties is that you get to meet so many amazing people!
4. Have fun!! :)
I'd also love to have you put the button on your post or blog somewhere so that it's an actual "link" party! :)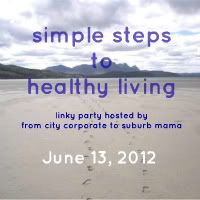 Want to co-host next time? Just
contact me
and we'll set it up!