Why don't you understand that?
This is something I fight with myself about. This is something I struggle with a lot these days. This feeling comes in wave patterns it seems.
I do wonderfully for quite awhile. I'm patient with my kids, my house is somewhat kept up (as much is as normal with 4 littles), menus are planned and executed, I am in the Word on a regular basis and I FEEL His power within me. Then comes the OTHER times.
I'm short tempered and impatient with my kids. I can't even put a to do list together because I can't figure out where to start first, I pray quick "help me get through this day (moment)" prayers sporadically and I'm constantly tired and in my sweatpants.
Good lord SERIOUSLY Lord do NOT let me become "THAT" mom!!!
BUT, how easy does that happen when you are at home all day with little ones that outnumber you and you haven't showered in a couple days and you'd rather sleep in until 6 or 7 when the kids get up than work out in the morning OR read your bible before the little ones take over the day?
How do you prioritize that first part of the morning to do what you KNOW gives you energy when you don't have the energy to begin?
What have you been learning in the Bible? Please join myself and these fantastic ladies for this encouraging linkup!
Sarah at Fontenot Four
Falen at Upward Not Inward
Kelly at Exceptionalistic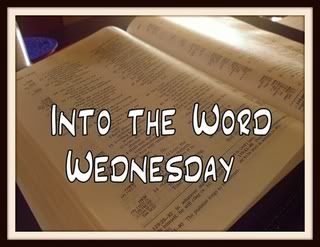 Into the Word Wednesday Blog Hop Rules:
1. Write a post about what God is teaching you this week.
2. Follow the host and hostess.
3. Grab a button to put on your blog - the more the merrier!
4. Check out (and comment) other people's blogs and be blessed by all the sisters and brothers around the world!