Often when we hear the word "worship" we think of singing hymns in church…of listening to the choir sing…of clapping along with the worship band…or perhaps lifting our hands "in praise".
When I was young and we talked about heaven in CCD class I would imagine everyone standing in big circles dressed all in white singing hymns to God. To me, that was worship and in heaven the bible says we will be worshiping Him forever. I used to think wow,,,forever is a LONG time. Won't I get bored or tired standing there all still and singing for THAT LONG?
Today at bible study I got reminded what worship truly is. Have you ever thought beyond singing songs of worship at church on Sunday? Have you thought beyond singing worship songs along with the radio in the car? What about sweeping your floors or cleaning your toilet? What about waiting patiently behind the car slow to turn while you are driving? What about your daily run?
Do you look at those as worship?
John 4:21-24 Jesus said to her, "Woman, believe me, the hour is coming when neither on this mountain nor in Jerusalem will you worship the Father. You worship what you do not know; we worship what we know, for salvation is from the Jews. But the hour is coming, and is now here, when the true worshipers will worship the Father in spirit and truth, for the Father is seeking such people to worship him. God is spirit, and those who worship him must worship in spirit and truth."
Romans 12:1-2 I appeal to you therefore, brothers, by the mercies of God, to present your bodies as a living sacrifice, holy and acceptable to God, which is your spiritual worship. Do not be conformed to this world, but be transformed by the renewal of your mind, that by testing you may discern what is the will of God, what is good and acceptable and perfect.
"The highest form of worship is the worship of unselfish Christian service." ~ Billy Graham
How would it change how you "do" each day if you remembered at all times that everything we do is worship and an expression of our love to God?
What have you been learning in the Bible? Please join myself and these fantastic ladies for this encouraging linkup!
Sarah at Fontenot Four
Falen at Upward Not Inward
Kelly at Exceptionalistic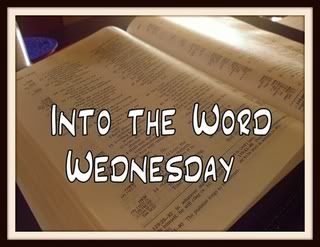 Into the Word Wednesday Blog Hop Rules:
1. Write a post about what God is teaching you this week.
2. Follow the host and hostess.
3. Grab a button to put on your blog - the more the merrier!
4. Check out (and comment) other people's blogs and be blessed by all the sisters and brothers around the world!