We moved.
We've
been in our new place going on a month now and
we've
had a few bumps along the way.
Since we moved in: chipping paint has been fixed, the electrician has been out to work for about 3 days, the furnace needed 2 days' worth of work, the plumber has been out multiple times, the washer, dryer & refrigerator all have broken and needed replaced and our basement flooded needing the plumber to come out yet again.
Although the "Frankenstorm" that hit a day ago
didn't
completely devastate our area (thank you GOD!), we now have water damage in one of the kids rooms, gutter problems, a roof leak in our upstairs common area & a leak in our front room near the floor. Oh, and our electricity has been out and probably will be for at least another few days.
How much more can HONESTLY go wrong?
That is something I feel nervous about typing because
there is ALWAYS more that can go wrong
in your circumstance even when it seems like its impossible.
A theme that has been ringing in my head over and over and over again is having GRACE during life's annoyances.
That is what this last month has been filled with; little tiny annoyances that just kept coming one after the other. When the refrigerator freaked out I wanted to freak out. But…how blessed I am to have a refrigerator at all. When the basement flooded I thought REALLY?!?! But, how thankful I really do feel to have that extra place for storage. And on the day of the storm when things started getting yucky out and we decided to drive to my inlaws since they were a lot less likely to lose power than we were…AND we realized all the leaks and then the loss of power I just had to shrug at that point and be grateful we have a warm place to stay with our kiddos where we can be comfortable "hunkered down" with loved ones.
What does our Lord say about those tiny annoyances?
give thanks in all circumstances; for this is the will of God in Christ Jesus for you. 1 Thessalonians 5:18
I MUST be thankful EVEN in the annoyances. And let's be REAL kids. Things could ALWAYS be worse. A LOT worse. My family is healthy & happy. We are surrounded by love and are overwhelmed at the kindness of so many of our friends and family in our life. There is literally NOTHING more to want or need. We are GOOD.
Every good gift and every perfect gift is from above, coming down from

the Father of lights

with whom there is no variation or shadow due to change.
James 1:17
Let's face it. This world and our life circumstances are ever changing. How AMAZING to KNOW that God does not change. DOES NOT CHANGE. He is who He is and we don't have to worry about anything. I don't know about you but I'm grateful for the ONE thing in my life that I can rely on ALWAYS.
do not be anxious about anything, but in everything by prayer and supplication with thanksgiving let your requests be made known to God.

Philippians 4:6
And should I get anxious about these really MINOR life hiccups (because let's face it I'm human and yeah…it happens), I can pray.
What have you been learning in the Bible? Please join myself and these fantastic ladies for this encouraging linkup!
Sarah at Fontenot Four
Falen at Upward Not Inward
Kelly at Exceptionalistic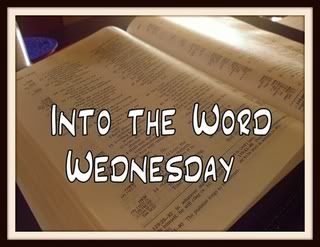 Into the Word Wednesday Blog Hop Rules:
1. Write a post about what God is teaching you this week.
2. Follow the host and hostess.
3. Grab a button to put on your blog - the more the merrier!
4. Check out (and comment) other people's blogs and be blessed by all the sisters and brothers around the world!