When discussing or thinking about the Holy Spirit a variety of things can come to mind depending on your faith tradition background or what
you've
heard from other people, read about or even seen on TV. The term "Holy Spirit" can evoke various images of people running around a church sanctuary "filled with the spirit", a painting of flames over the head of Jesus' apostles after His death and resurrection or a dove depicted in a beautiful stained glass window.
According to Dictionary.com the Holy Spirit is:
Holy Spirit
the
presence
of
God
as
part
of
a
person's
religious
experience.
Origin:
1350–1400;
Middle
English
The Holy Spirit is what God sent to us after Jesus died on the cross. When Jesus died the Holy Spirit equipped His disciples to carry on His work and to teach people about the saving grace of Jesus Christ. The Holy Spirit enabled them to be successful in their mission.
How do you see the Holy Spirit working in your life?
The Holy Spirit is that feeling inside of you when you are reading God's word and you KNOW it's supposed to be something you read to help you on your journey through this life. The Holy Spirit is that quiet nudging you feel when you are faced with a life decision. He is your helper here on earth.
Currently, the women's group at our church is going through Jim Cymbala's When God's Spirit Moves DVD & book series. I am in complete love with it. In this series you dive headfirst into scripture teaching you about the Holy Spirit. In the DVD series it gives first hand accounts of how God's spirit has moved in the lives of people just like you and me. I love how in the video he says, "No outward teaching can replace the inward power of the Holy Spirit". In the words of my pastor, "That's POWERFUL!".
T
he Holy Spirit is powering the Godly teaching we hear each week at church. The Holy Spirit is making the bible come alive to you and to me. The Holy Spirit was what I felt that day on that alter when I was 16 in my home church when our CCD teacher John encouraged us to kneel on the alter and pray (Thank you John.). The Holy Spirit is what called me back to God when I had strayed far from the truth I knew.
What is your
experience
with the Holy Spirit?
What have you been learning in the Bible? Please join myself and these fantastic ladies for this encouraging linkup!
Sarah at Fontenot Four
Falen at Upward Not Inward
Kelly at Exceptionalistic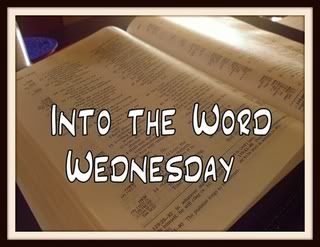 Into the Word Wednesday Blog Hop Rules:
1. Write a post about what God is teaching you this week.
2. Follow the host and hostess.
3. Grab a button to put on your blog - the more the merrier!
4. Check out (and comment) other people's blogs and be blessed by all the sisters and brothers around the world!