Welcome to another week of the Into The Word Wednesday link-up. This is your home for encouragement today. Each Wednesday you can link-up your posts about what YOU'VE been learning in Scripture. I LOVE reading what each of you has to say about YOUR faith journey. I read each one every week and the encouragement YOU give me is SOOOOOOOOO appreciated! Just wanted ya'll to know.
As some of you know my family has been living life a little bit "up in the air". By that I mean we are selling our home to specifically downsize financially. We are looking to drop our monthly housing payment approximately $700. Considering that was approximately the TOTAL of the monthly mortgage of my condo back in my 20's that number just sounds a little crazy. Fast forward 8 years, 1 marriage, 2 homes and 4 kids later life has changed a…lot. Our priorities for our life together as a couple have changed. The priorities we have for our children have changed as well. Living a more simple life appeals more now than that "important" career and expensive home did.
We are commanded to wait on God. The BEST things come to us in His timing.
but they who wait for the Lord shall renew their strength; they shall mount up with wings like eagles; they shall run and not be weary; they shall walk and not faint.
Behold, we consider those blessed who remained steadfast. You have heard of the steadfastness of Job, and you have seen the purpose of the Lord, how the Lord is compassionate and merciful.
Trust in the Lord with all your heart, and do not lean on your own understanding. In all your ways acknowledge him, and he will make straight your paths.
Our soul waits for the Lord; he is our help and our shield. For our heart is glad in him, because we trust in his holy name. Let your steadfast love, O Lord, be upon us, even as we hope in you.
I KNOW this…but I have a HARD time with it…with trusting and waiting on God's best. Does anyone else wish they could see the future? Just to "know"?
Our journey to find a new place to live has spanned the last couple months. We've scoured the internet, realtor Listingbook listings, newspapers, you name it. We've driven around neighborhoods. Heard back that place after place was taken. We went and looked at about 5 places a month or so ago. One was sort of ok. We were turned down.
A week or so later we found what we thought was the perfect place! We were excited. We thought we had it and then we didn't get it.
In the meantime we got a contract on our current home.
We found a beautiful place out in the country that seemed perfect. We went to look at it and it was FAR down a gravel road. I KNOW my husband was hearing "Deliverance" playing in his head as he was driving our minivan down the little road. I was seeing my "dream home" slipping away before we even arrived. We saw it and loved it but not that road. It turns out we took the "long way" and the only part of that road we REALLY needed to drive on was about 1/3 of a mile instead of the 3 ½ we bopped down on our way there. Things are looking up. After many conversations and looking at a couple other homes we decided we really would LOVE this house for our family. In my head I was preparing for not getting it for some reason. It turns out WE GOT IT! We didn't even have to pay the $25 application fee for the property!!! The owners seem very kind and flexible.
Never in a million trillion years did I imagine living in an old stone home in the country with a yard for the kids to explore and a home for me to decorate JUST how I'd love to. I never imagined we'd REALLY have enough comfortable space for overnight visitors in our next home…or a large place for a garden space…not on OUR budget. This is just the general reality of the part of the country we call home. It's simply just expensive.
BUT, somehow we do. I had major anxiety. I doubted. I was upset and disappointed. I prayed for contentment. I prayed for God to take away my want for anything other than His best for us. It turns out His best is actually my dream. How awesome is that???
I don't deserve this. Somehow God saw fit to allow it. I pray I don't take one minute of this blessing for granted…the fresh air for the kids & trees to climb…big kitchen to work in…an actual laundry ROOM.
What have you been learning in the Bible? Please join myself and these fantastic ladies for this encouraging linkup!
Sarah at Fontenot Four
Falen at Upward Not Inward
Kelly at Exceptionalistic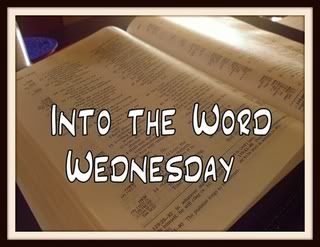 Into the Word Wednesday Blog Hop Rules:
1. Write a post about what God is teaching you this week.
2. Follow the host and hostess.
3. Grab a button to put on your blog - the more the merrier!
4. Check out (and comment) other people's blogs and be blessed by all the sisters and brothers around the world!