Do you know how much God loves you?
Even when you are limping along through life not even paying attention to Him and trying to do it all by yourself?
I was that limping girl for so long. I already knew Him but I was in my "do whatever I want to" phase. I was self-absorbed. I was "in my own little world". I didn't do anything I didn't want to do. I thought I was pretty "cute". And to be perfectly honest I probably should have gotten a DUI along the way. By the grace of God I didn't.
He was there in every circumstance (some of which I wish he couldn't have seen). He was there patiently waiting on me. He called out to me his daughter and I repeatedly ignored him. I continued on...limping along through life.
He loved me anyway.
Ephesians 2:4-5 tell me
"But God, being rich in mercy, because of the great love with which he loved us, even when we were dead in our trespasses, made us alive together with Christ— by grace you have been saved—".
Lisa Harper states the obvious...yet something that I think many of us take for granted: "And how, if we had to "wear" our sin where everyone could see it, we wouldn't need to be reminded of our desperate need for God's mercy"
--
Don't forget to enter the September Sponsor Giveaway! You can do that here!
What have you been learning in the Bible? Please join myself and these fantastic ladies for this encouraging linkup!
Sarah at Fontenot Four
Falen at Upward Not Inward
Kelly at Exceptionalistic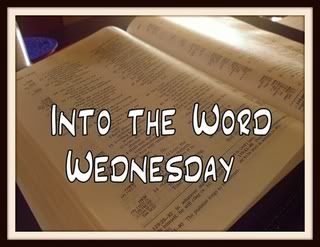 Into the Word Wednesday Blog Hop Rules:
1. Write a post about what God is teaching you this week.
2. Follow the host and hostess.
3. Grab a button to put on your blog - the more the merrier!
4. Check out (and comment) other people's blogs and be blessed by all the sisters and brothers around the world!