Marred & Scarred.
Isn't
that what we all are?
There are bits of our lives we cringe at. Moments, even years, statements that have rolled off our tongues that we wish we could take back.
Sometimes in life dwelling on the heartache, the pain, the would of, should of, could of's is easier. It's easier because that is what is loudest in our life sometimes. Sometimes there is a dark place where you are quite sure no one understands. There is a sad place you want so badly to get out of.
Things happen, choices are made by ourselves and by other people that affect us and push us in directions we never planned to walk.
We are marred & scarred from the turns life takes. We are reminded again and again that only one thing stays the same through those turns. There is but ONE constant.
Because of the

Lord

's great love we are not consumed,
for his compassions never fail.
23
They are new every morning;
great is your faithfulness.
24
I say to myself, "The

Lord

is my portion;
therefore I will wait for him."
Lamentations 3:22-24
GREAT is Your faithfulness. IT IS NEW EVERY MORNING.
What have you been learning in the Bible? Please join myself and these fantastic ladies for this encouraging linkup!
Sarah at Fontenot Four
Falen at Upward Not Inward
Kelly at Exceptionalistic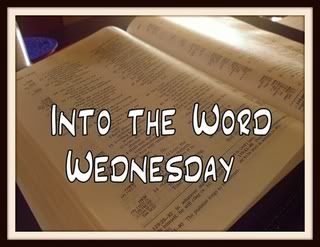 Into the Word Wednesday Blog Hop Rules:
1. Write a post about what God is teaching you this week.
2. Follow the host and hostess.
3. Grab a button to put on your blog - the more the merrier!
4. Check out (and comment) other people's blogs and be blessed by all the sisters and brothers around the world!