What do you think about New Years resolutions? Do you make them? Do you avoid them like the plague? What about making them at other parts of the year…because perhaps you think new years resolutions are for people who are just going to quit whatever it is they are "resolutioning" anyway?
4 weeks into the new year I sit here thinking about my resolutions or lack thereof. I honestly don't make resolutions. I've talked a little bit about a goal for my blog I outlined here. I started a new business venture I talked about in this post and have goals for that as well. You can say I have the "business" side of things outlined...but what about the personal side of things? What about personal goals, spiritual goals.
I began to wonder what the bible says about goals. I found out that it says a WHOLE LOT!
The plans of the diligent lead surely to abundance, but everyone who is hasty comes only to poverty. Proverbs 21:5
Prepare your work outside; get everything ready for yourself in the field, and after that build your house. Proverbs 24:27
For which of you, desiring to build a tower, does not first sit down and count the cost, whether he has enough to complete it? Luke 14:28
I press on toward the goal for the prize of the upward call of God in Christ Jesus. Phillipians 3:14
It is obvious to me that to honor the Lord with our goals for our lives is what he desires AS LONG AS THEY ARE GLORIFYING TO HIM. He wishes to abundantly bless us.
Delight yourself in the
Lord
, and he will give you the desires of your heart. Psalm 37:4
And finally my search brought me right back to my life verse:
Do not be conformed to this world, but be transformed by the renewal of your mind, that by testing you may discern what is the will of God, what is good and acceptable and perfect. Romans 12:2
What comforting truth in those words in Romans. It encourages me to reach on toward all my goals personally and professionally but reminds me to pursue those goals with His will at the center of it all.
Perhaps now, i'll pray about some personal goals to set. Finally losing that baby weight perhaps?
What have you been learning in the Bible? Please join myself and these fantastic ladies for this encouraging linkup!
Sarah at Fontenot Four
Falen at Upward Not Inward
Kelly at Exceptionalistic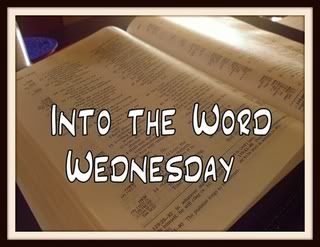 Into the Word Wednesday Blog Hop Rules:
1. Write a post about what God is teaching you this week.
2. Follow the host and hostess.
3. Grab a button to put on your blog - the more the merrier!
4. Check out (and comment) other people's blogs and be blessed by all the sisters and brothers around the world!