One of my FAV ladies is Nicole @ This Little Momma
.
Not too long ago Nicole did a really fun "getting to know you" post. It was easy to read and quickly let me get to know the beautiful person that she is.
I LOVED the idea! I guess I am not the only one who did because she decided to host a link up so we could all get to know each other a little better in ultimate "speed date" fashion!!!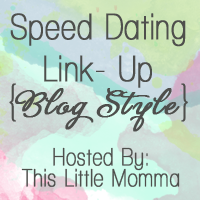 2) At that time I made the move from OH to VA. Someday I might write about that hard transition.
3) We had our first son June 16, 2009. Birth story to come in honor of his upcoming 3rd birthday!
4) 17 months later we welcomed fraternal twin boys. Twins do not run in our family and we didn't use fertility drugs. BIG SURPRISE!!!
5) When the twins were born I became a SAHM. I was having a HARD time and was determined to return to the corporate world.
6) I became pregnant unexpectedly 6 MONTHS LATER with our little girl. I was STILL determined to return to work. God had other plans. You can read about my SAHM journey here, here & here.
7) You can see a typical afternoon in our life below.
9) I'm learning to be less task oriented and not so much of a box checker. I'm learning to bite my tongue. I'm learning that I honestly don't care what people think of my decisions and I must put my little family first despite anyone else's opinion.
10)
My faith in Jesus is really the ONLY way I get through this sometimes yucky life here on earth.